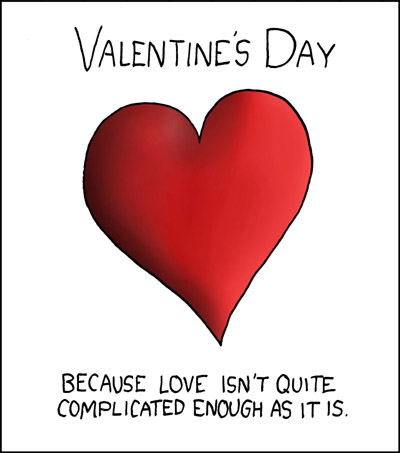 The image above was taken from http://www.XKCD.com
Honestly my question to everyone is there really an importance to Valentine's Day? Even Sweetest Day? Isn't love suppose to be shown 24/7, 365 days a year?

Love is meant to be shared between two people. Valentine's Day is simply a given day that you MUST show your love. If not? Well let's just say your wife, fiancée or girlfriend will be mad at you. It's the same if you forget your anniversary, well maybe a little more mad. Most of the ladies expect it. The flowers, boxes of chocolates, teddy bears, the dates, etc. All of these things are priced higher for the occasion. Why should we be expected to waste a lot of money? I am for one, one of those people who like to show that I love someone all of the time.

Valentine's Day is basically just another government given holiday that stores use to make money. Sweetest day is like a baby compared to Valentine's Day whereas I do not even know much about it. I barely knew it existed. I always assumed it was the same tradition where the guy's buy girl's gifts, but then again I also heard it was the other way around.

So honestly are they really that important to celebrate? Let me know what you think? Also show love to your wife, fiancée or girlfriend on here as well! Leave a message to them if you would like.

I am not asking these questions cause I was just recently dumped by my girlfriend of 6 months a couple weeks ago. I have always felt this way since I was a little kid.